Real-time Intelligence - Increasing Manufacturing Profitability
Mobiform Status Vision Designer®
Manufacturing Intelligence
Operator Control and Business intelligence for Manufacturing. Graphical web-based dashboards of real-time process, data base and historical process information.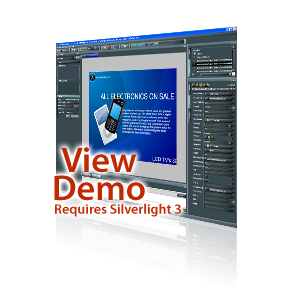 Click on the picture above to see live demonstrations of Status running on web server.
Industrial Digital Signage
and Web Dashboards

Status Vision Designer® is a powerful software design solution for your HMI and digital signage display needs. Using Status, companies can display meaningful real-time information such as manufacturing figures, Dials, Gages, and trends. Using the built-in Scheduler, cycle a series of messages generated by the designer for corporate visitors, internal training or other employee messages. The ticker feature included with Status lets you display web-based feeds such as stock market data, weather, news and more
Solve real problems with Status:
Very easy to use - learn from
"How To"
video
Click HERE
Show graphical data from ANY real-time and historical sources.
Full HMI - web based or as an application
Unlimited Tags
Email and Text Alerts and Alarms
Inexpensive - no charge for tags or screens.
Built entirely on Microsoft - works with SharePoint

®

.
Make it very easy to for managers to use process information with a system that uses a plant model to find information - not tags.
Present the right information to the right people based on login and domain security.
Provide a dashboard for Energy management.
Manufacturing intelligence requires that employees see operating information in context. This means showing Key Performance Indicators like production in context with plan. It also means getting data from more than just the controls systems.
Visualize MS SQL Data in Real-time Web Dashboards Along with Process Data!
Click on the picture below to see a recorded demonstration of how to visualize data from MS SQL databases.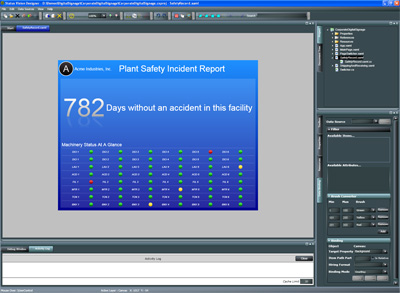 You may need the GoToMeeting Codec
to see the recorded demo.
https://www3.gotomeeting.com/codec?Portal=www.gotomeeting.com
Want to try Status? Download a trial of Status
Click Here
About Mobiform:
Since 2003, Mobiform's development experience in .NET graphics technology for revolving around user interface design solutions for Windows and web applications has given us a unique perspective and insight into the data visualization market. And now, with the advent of Microsoft's Silverlight platform, we can offer our products and services to customers on different platforms and devices allowing us to reach a far wider audience than ever before imagined.
Mobiform specializes in the compelling visualization of real-time data. Our design products are based on WPF (Windows Presentation Foundation) and Silverlight technologies. Mobiform has produced exceptional data visualization solutions for manufacturing, power & utilities, automation, and other fields of business making use of HMI and SCADA products. Recognizing that data visualization can be used in multiple vertical markets, Mobiform is leveraging its technology in combination with its feature-rich components to expand into other lines of business like digital signage, financial, healthcare and touch-screen solutions.

See the webinar on Browser