Process Intelligence GAP Analysis Workshop:
Sylution professionals are experienced in delivering process information from disparate systems in the right form for better decision making.
At one time the primary target for process information was the operators that controlled the process. The driving force for getting actionable intelligence from process industries expanded in the 1990s to process engineers and a technical managers. Today, nearly everyone from division managers, sales, suppliers, customers, schedulers, transportation, maintenance and more need to see real-time performance and intelligence that is actionable for their needs from plant control and information systems.
No one is better prepared or suited than Sylution to helping process companies meet their real-time business intelligence and performance needs at the best possible value to the company. Sylution offers our clients the following guarantees:
Our Workshops are centered around your needs.

Our workshops will challenge the attendee to consider capital costs, Total Cost of Ownership (TCO), Business goals, business agility, upgrades, impact of process control changes, and more.

Our solutions work with industry standards like OPC and OPC-HDA so that our clients can connect to any infrastructure without extra cost or configuration and use any reporting or trending tools that conform to these industry standards.

Our solutions are not "Sticky". They will not be control system or proprietary platform dependent.

Our solutions are scalable. You can start small - but you don't have to stay small.

Sylution will work with small to medium clients to ensure they can get the same management tools, and solutions as the very large corporations.
The pictures above show mostly trending of process data. However, it is vitally important today to build solutions to that show actionable information in the form needed for the user's job.
Energy Management

Alarm Management

Root Cause Analysis

Electronic Batch Records

Performance Improvement

Regulatory Compliance

More
Process Intelligence Workshop
Let Sylution and our partners help you understand what you will need to close the GAP between where you are today in process performance and where you need to be to meet your goals.
A workshop is made of three parts that are customized for each client
Review tools available: process historian tools and reporting capabilities to ensure everyone understands further discussions.
Review GAP analysis, and steps to correct the GAP, between manufacturing goals and existing conditions.
Discuss and begin detailed scoping of a client opportunity and some of our examples
Each person attending a workshop will be given a detailed agenda for the session. In addition, each person will be expected to bring their domain expertise and any pre-work with them to the workshop to ensure that they are ready to actively participate.
This Process Intelligence Workshop is available in a number of formats:
Free two-hour Lunch-n-Learn meeting for general understanding.
One-day format which will include a review of the client's systems and interactive development of specific plans.
Please Note: A workshop is a two way exchange of information that leads to understanding. The attendee should be prepared to describe needs, current systems, the GAP between where they are operating today and where they need to be, and their methods for budgeting and justifying solutions.
The diagram below shows the cycle of manufacturing improvement and the support Sylution can bring to the client.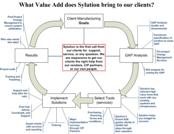 Click to enlarge.