Pharmaceutical
The Pharmaceutical and Life Science industries are regulated businesses with a high costs for record keeping and generally a shorter time for recouping investment. These companies have special regulations and demands but, they also have great opportunities and return on investment for lean manufacturing and performance management.
5.5 Sylution suggested tools for Pharma manufacturing:
1) Risk - Control systems are validated and it is very important to ensure that logic changes are not made unless the system is re-validated. Program back-up and version control are very important. A company that does not have an automated backup system and strict version control can find their next PLC failure very costly. Click Here
2) Sustainability - Energy Management - Beyond good corporate behavior sustainability projects lead to lowering the cost of manufacturing and increasing margins. This requires companies to acquire energy use data, analyze it for baseline use and actionable KPIs such as cost, then present the intelligence to those that can impact the numbers. Further, it will require action to interpret the intelligence presented to then identify opportunities, costs and savings. Only then can the organization move into changing procedures and upgrading systems lowering the costs. Click Here
3) Real-time Performance Management - OEE and downtime
Pharmaceutical facilities have a lot to gain by using real-time performance management.
4) Lean Manufacturing - We can supply the software that works with your existing systems to sustain the WIP and inventory at the right level.
5) Visualization
LED Marquees, LCD displays, Electronic Signage, Web Dashboards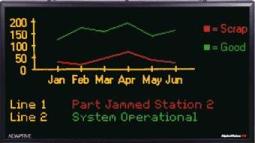 5.5) Alarm Management - Operators get hundreds of process alarms everyday. How long does it take to acknowledge a critical process alarm? How many nuisance and redundant alarms do your operators see on their shift? Every process plant needs alarm management software to help operators and managers operator the process better.
Web based display of Process Alarms from any control systems
Alarm duration.
Time to acknowledge
Frequency
Redundant and nuisance alarms
Pharma Information
Beaker - The Online Community for the Life Sciences Industry.